I intantly fell into the luring forces of the warp since i started playing 40k and traitor guard have always held a place in the back of my mind. A little over a year ago and after amassing a largish army of CSM, I decided it was time to realize the dark side of IG. With my CSM army bieng Black Legion i decided to pick up the fluff that would interconnect my 2 forces. The short of it: After turning renegade during the invasion of their hive world they were introduced into the fold of my Black Legions military forces. Occupying a small grouping of planets inside the Maelestrom my lord has used them as an occupying force for his holdings and overseers for the inumerable slaves within. Their main base of operations bieng a Volcanic Death world.
About 6 month after starting my Traitor Guard army the new dark elf plastics came out. I thought these would be perfect for the feel of my army with the fluff bieng on a volcanic world. Besides buying a battalion as a base start for a fantasy army i picked up a Cold one knights box to use in a rough rider conversion. These have been sitting on my shelf for about 6 months now. With renewed vigor i have pulled them back off the shelf and onto the hobby table. I have a Sgt. finished and hopefully the next 4 will come along in the next couple weeks. Here is a pic of the completed Sgt.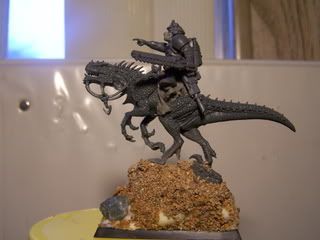 Heres a few of the troops i have done, please excuse the dust. These are just base cadian with a sculpted "gas mask" and a few doodads here and there.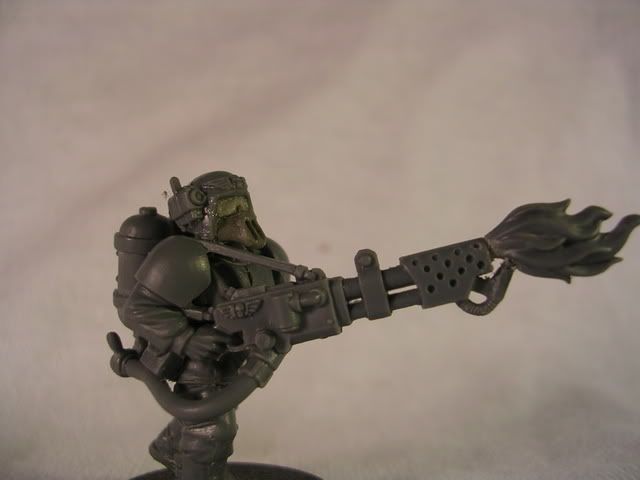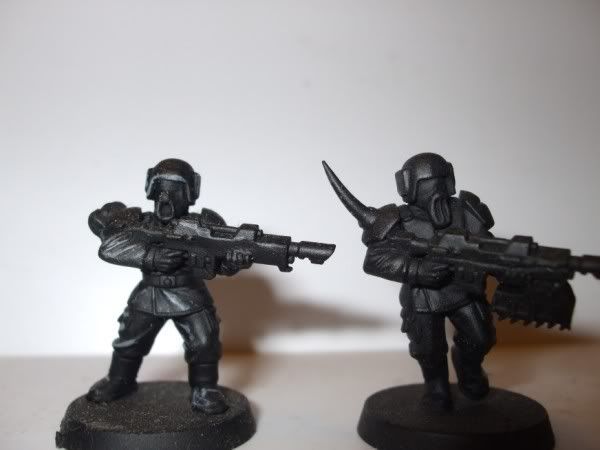 And last but not least i have my commander based from a commisar with a powerfist from the old Noise marine champ.